jQuery Conference 2011: SF Bay Area – Speakers and Talks
---

Speakers
We currently have 28 speakers and trainers listed on the speakers page of the events site for the San Francisco Bay Area Conference on April 16-17, 2011. Featuring speakers like John Resig, Richard D. Worth, Todd Parker, Steve Souders, Nicholas Zakas, Garann Means, Darcy Clarke, Estelle Weyl, Matt Kelly and many more.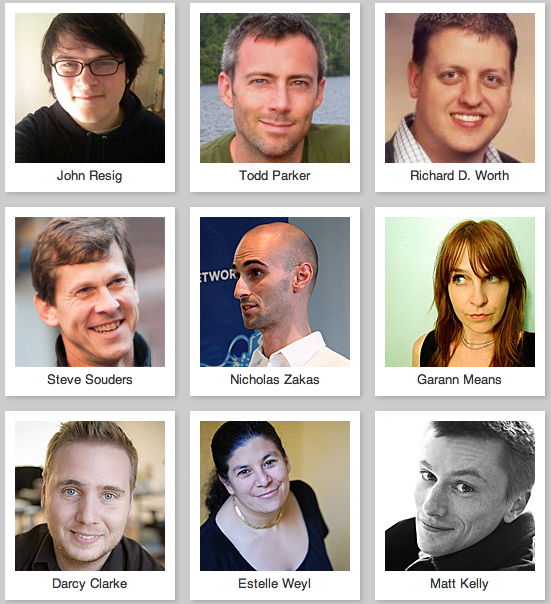 Make sure you head over to the events site to learn all about our speakers.
Talks
We also have the schedule posted with 25 out of the 28 talks filled. We'll be filling those remaining slots in the upcoming week (check our twitter account for the latest).
Here are a few of the talks you'll find this year:
jQuery Keynote
jQuery UI Keynote
jQuery Mobile
Deferreds – Putting Laziness to Work
Integrating Code Quality tools into your jQuery Development Workflow
Filling the HTML5 & CSS3 Gaps with Polyfills and Shims
Harnessing jQuery Templates and jQuery Data Link, to build dynamic data-driven browser apps
Presentational jQuery
The jQuery UI Widget Factory: WAT?
Mobile Performance
Make sure to click on the talk titles and speakers names to read the associated abstracts and bios.
Pre-conference Training
Don't forget about our training classes we are offering on April 15th. Find out more information.
Registration
Tickets are selling fast so make sure you get your ticket today. Head over to our Register page to find out how you can be a part of the next jQuery Conference.