jQuery.com Site Redesign
---
We've just pushed out a brand new site redesign (for jQuery.com and all its sub-sites). This has been a long time coming and it feels great to get it out the door.
New Homepage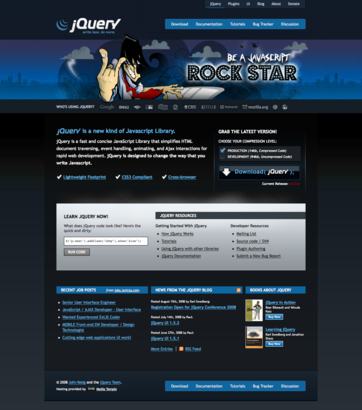 Easily the most contentious part of the redesign – but absolutely the most eye-catching.
jQuery has long been driven by rock, even looking back to its original release which was heavily inspired by the always-excellent Devo. We shot for a catchy design that helped to bring JavaScript out of the cold doldrums that it frequently inhabits – giving it a serious jolt of fun.
New Site Layout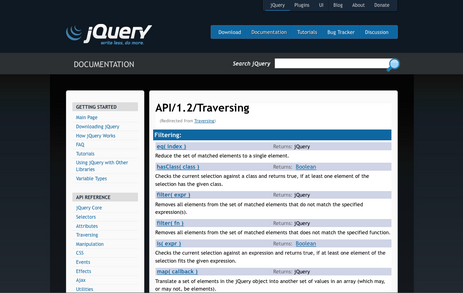 The entirety of the site has a new layout. With drastically improved multi-layer navigation and a standardized sidebar it should become much easier to navigate the individual portions of the site.
You should probably wear a hard hat while exploring the interior pages – font sizes, spacing, and colors are all in need of tweaking, which will be handled over the upcoming week (it's fun working against Trac, WordPress, Drupal, and Mediawiki simultaneously).
New Logo

The original jQuery logo was a variation of the Devo hat – we've taken that concept, turned it on its ear, and made it something that we can call our own – while still being inspired by the original contours of the Devo Energy Dome.
Thanks
Site and Logo Design: Scott Jehl – he put a fantastic amount of work into this redesign, bringing it all the way from conception to final implementation.
Rockin' Illustration: Varick Rosete from nGenWorks also of Happy Webbies fame.
Initial Logo Prototyping: Bradley Sepos.
Also want to thank Media Temple for our hosting. They've been helping us a lot this past week migrating our sites to some new servers – expect some speed improvements for the sub-domains very soon.