The Official jQuery Podcast has a New Home
---
Today, we'd like to announce that we've moved the Official jQuery Podcast off the jQuery blog and onto it's own site at http://podcast.jquery.com.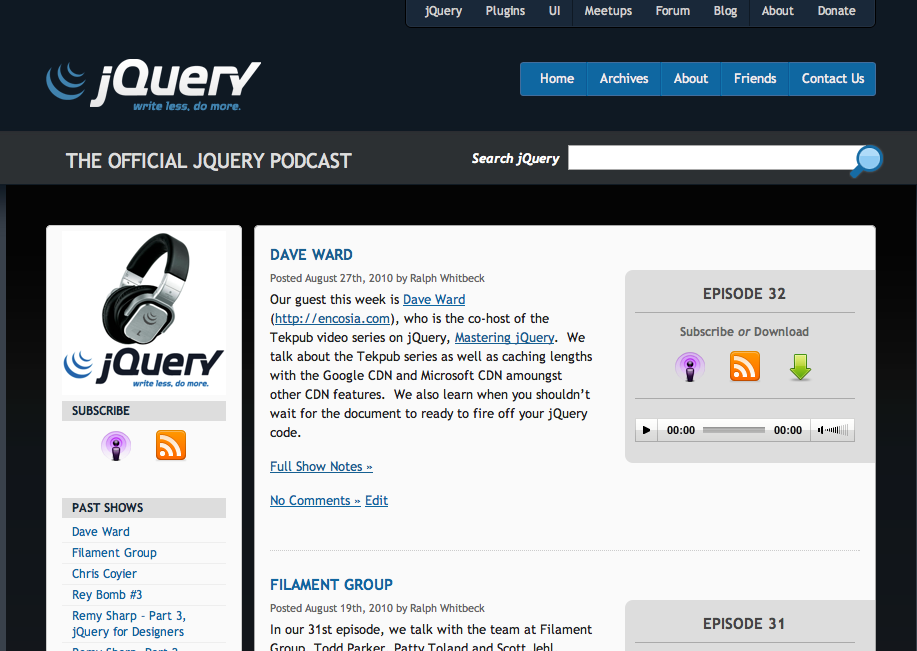 We felt that with a weekly blog post for each episodes show notes the podcast was taking over the blog.  Some of the community members thought the same way.  We've been working on porting over the existing posts and making the new podcast site easier to use for our listeners.
Each episodes show-notes are now streamlined to give you a quick introduction about what the show is about followed by all the links that were mentioned in the show.  We also have the ability to play the show from the post with an embedded player as well as easy links to download and subscribe.
We also have a easy contact form that will allow you to contact the podcast directly.
We've cleaned up the jQuery blog and removed the old show notes and put in place URL redirects so old urls will still go to the right post on the new site. While we are talking about the blog, we'd like to know what would you like to see more of on the jQuery blog?  Currently we've been using the blog to post news about the project and upcoming events.  What else can we post to help you out?  We'd love to hear your ideas.
Special thanks goes out to Doug Neiner for helping out with design and coding, also, would like to thank Jonathan Sharp for setting up the site and getting the URL redirects in place.
Let us know what you think of the new podcast site and don't forget to keep listening to the show.