14 Days of jQuery Summary: Days 1 – 7
---
In case you're not following along with the 14 days of jQuery, here's a summary of what has been released thus far.
jQuery 1.4 Released
jQuery 1.4 Live Q&A
HD version of jQuery 1.4 Q&A
Media Temple Giveaway
jQuery Podcast episode 7 with John Resig
Internal Changes in jQuery 1.4, with John Resig
Getting Involved in the jQuery Community, with Karl Swedberg
appendTo Training Drawing
jQuery 1.4 Hawtness #1, with Paul Irish
New jQuery Forum
jQuery 1.4 Hawtness #2, with Paul Irish
We still have 7 more days of jQuery 1.4 to come with more video's and more releases to announce.
Again, events like these are not possible without support from our great sponsors and from you, the jQuery Community. We'd like to thank everyone who has donated so far, and we'd like to remind everyone that you will receive a free ebook with the donation of $20 or more throughout the 14 Days of jQuery.
Media Template Giveaway
Each day during the 14 days of jQuery, a web developer will receive a free (gs) Grid-Service account for one year from the jQuery Project's web hosting provider, Media Temple. A grand prize winner will receive a 13″ MacBook Pro!
In order to enter the contest, you must submit a link to your coolest use of jQuery. A winner will be chosen each day during the 14 Days of jQuery. The grand prize winner will be announced on Friday, January 29th.
Check the Media Template Giveaway webpage for more details about the contest and to see the announced daily winners. There are only 7 days left, so enter now!
Check out jQuery Enlightenment!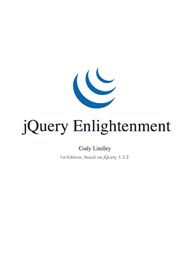 jQuery team member Cody Lindley has published the jQuery Enlightenment book, and if you haven't checked it out yet, you'll definitely want to. "Each chapter contains concepts essential to becoming a seasoned jQuery developer,"'" so even if you've already got your copy, pick one up for a friend who's just learning! Even better, a percentage of all sales goes directly back to the jQuery project and helps fund future releases and projects. A big thank you to Cody for his generous donation for the 14 Days of jQuery campaign!